SlackDog
Item Details
|
Reviews
(
1
)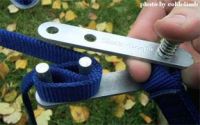 Manufacturer:
Other



This item may be available at:
Description
This is the smaller version of a device developed by Scott Balcom for use with slackline tightening. Attached to the webbing as shown in the photo, it will lock off solidly and allow one to clip in another tightening system to one already in place. The advantage to using this over a plain knot is that the device moves UP the line quite easily, and can be taken off quickly. This version is not strong enough for use in the actual line, but is an excellent tool for getting that extra mechanical advantage when tightening.
1 Review
Review
Review by: coldclimb, 2005-03-12
An awesome tool that every slacker should have. Makes setting up a line by yourself exponentially easier, and is just a TON better than knots. I love it. The only reason it doesn't get a five is because it's not uberstrong. I exploded mine once. Repairs were successful, but the stronger slackdog is better.