Slopers 02
Item Details
|
Reviews
(
1
)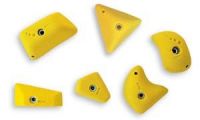 Manufacturer:
Lapis holds



This item may be available at:
Description
2 large and 4 XXlarge slopers

note for the HP: sice the page is amde with flash, youll need to click the "store" icon on the rop bar (just move your mouse over it to expand it), then slopers and slopers 2 links. sorry, no direct link.
1 Review
Review
Review by: overlord, 2004-09-02
UGH, these are so sweet. The structure is just right (like its normal with lapis), just sharp enough so you dont lip, but it doesnt ter the skin.

I really love slopers, and these are really one of the best i have ever laid my hands on. Youll love and hate them at the same time. Depending on hte angle you set them at, youll either have to be super strong and have great technique, or you can waste them on vertical stuff. But that would be a real shame.