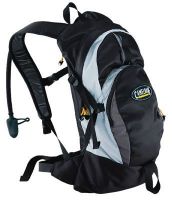 Manufacturer:
Camelbak



This item may be available at:
Description
Haul it all! Stuff in an extra layer, a pair of mittens, and a mid-morning snack, plus enough water for your snowshoeing, cross-country skiing, or sledding adventure. With 780 cubic inches of storage and a 70-ounce reservoir, the SnoDAWG™ is the perfect system for a half-day of winter wonderlanding.
Features & Specifications
• New zip harness design insulates tube and keeps bite valve close for convenient drinking.
• Enhanced reservoir access through zippered back panel.
• 780 cu. in. of storage holds extra layers and food.
• Includes OMEGA™ Reservoir to make filling fast and easy.
• Outer pocket includes organizer to hold keys, wallet, and small items.
• Three-point compression system keeps load stable as you move.
• Insulated reservoir and tube are protected from freeze-up.
Capacity: 70 oz (2.0 l)
Dimensions: 19 in x 10 in x 9 in (482 mm x 254 mm x 229 mm)
Volume: Cargo – 780 cu. in. (12.78 l)
• Total – 902 cu. in. (14.8 l)
Weight: Empty Reservoir – 1.72 lbs (0.78 kg)
• Filled Reservoir – 5.59 lbs (2.54 kg)
1 Review
Review
Review by: brittamac, 2004-03-09
This pack has really served me well both on the trail and on the slopes. It has a decent amount of room in the main compartment to fit both the bladder and an entra layer, or, if you have kids, all their extra stuff they can't possibly carry themselves.

Its nice that you can access the bladder from outside the pack, so you don't have to unload everything to refill. Small pocket on the front lets you hold your keys, etc, and not get them lost at the bottom of the main pack.

The tube has a nice insulated sleeve, which protects the contents from freezing - USUALLY. I've had times where the water has prozen at the mouthpiece (which also has an insulated cap), but you can usually free the ice by gently biting on the mouthpiece. Putting warm water in the reservoir solves that problem for awhile too, and keeps your back warm.

Downside to the pack is that it is totally in the way if you have to ride a chairlift or gondola (if you've stuffed it with other things). You can slim it down as much as practicable with the side cinches, so its not quite as big.

Make sure you burp the reservoir if you're not filling it completely, or the sloshing will make you crazy while running trails.