Sock and Leg Warmer combination
Item Details
|
Reviews
(
1
)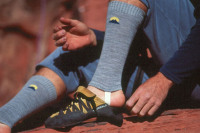 Manufacturer:
Rock Jock



This item may be available at:
Description
This is a 2-part sock. One ankle high wool sock with a matching leg warmer. Attached to the leg warmer is a 6 inch stirrup. The idea is to put both pairs of socks on in the morning when you get ready to climb. Hike in, when you are ready to climb you remove the ankle high sock, pull the stirrup down underneath the sole of your foot, put your climbing shoes on and climb. It's keeps your feet warmer It's a pretty simple idea and a difficult sell to climbers because when they hear "a sock for rock climbers" they think, "No Way. I don't wear socks" After testing the things here at Red Rocks by giving them out to random people then taking pictures I was quite surprised by the positive reaction. Everybody loved them!!! I also found out inadvertently that the leg warmers double as hand warmers. If you want you can put them on your hands in a pinch. They won't stink up your hands like your regular socks would. PATENT PENDING
1 Review
Review
Review by: ratstar, 2004-04-28
Great for cooler weather climbing zones. i.e. Northern Utah in the spring and fall. Comfy. Keeps the skeeters off too. Also protection from that rock that always scrapes your leg when you are heelhooking.