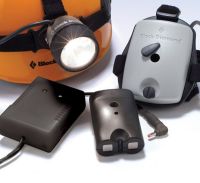 Description
NOTE: Batteries associated with this product have been recalled. Click HERE to read more.
This Integrated Hybrid headlamp is the first to use lithium ion battery technology. The Soliras has a rechargeable battery and a searchlight-strength bulb that is designed for rangers, guides, patrollers and other outdoor professionals. It can throw a beam 180 meters at full power for over three hours and has been designed to work in the most extreme and demanding conditions. Two SuperBright LEDs offer normal illumination when its blazing searchlight beam is not necessary. An IC chip allows for two brightness settings as well as strobe illumination when running the LEDs. Included with the Soliras are a spare 1.0-amp bulb, an electric wall recharger, an auto-accessory recharger and a compact battery case. For night vision options, a red lens and a blue lens are included. The Soliras can also run on four AA batteries.
The first lithium ion powered headlamp with both LED and xenon light
Easily recharged battery eliminates cost of new batteries
Burn time of 1000 hours on LEDs alone
Created for outdoor pros—guides, patrollers, rangers
Tested to IPX waterproof standards
1 Review
Review
Review by: ratintraining, 2005-11-28
While pretty expensive, the Soliras is designed for a pretty specific use, and outside that, it is too much lamp for most. I am on a search and rescue team, so the Soliras's super bright search light bulb was is a major plus. Also, due to the cold temps that I encounter, the Lith-Ion battery works wonders. Most definitly not an all around light, but great at what it was designed for.