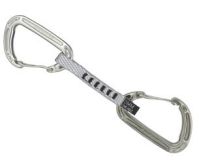 Manufacturer:
DMM



This item may be available at:
Description
The original and Hugely successful Prowire has now had a serious makeover, thanks to our new manufacturing technology.. The new Spectre features the I beam back construction for strength and Lightness. We Have adjusted the nose angle to provide a more secure rope basket which still boasts a reassuring 8.5 mm rope bearing radius to comfort your rope.[list] [*]Lightweight I Beam Construction Back. [*]Safer Deeper Basket [*]Easy to handle back shape [*]Generous 8.5mm rope radius. [*]Modified nose profile to protect gate [*][b][size=14]Major axis 24kN [*]Minor axis 8kN [*]Gate open 10kN [*]Weight 33g[/size][/b][/list]
1 Review
Review
Review by: qwert, 2005-10-15
works as expected (light, strong, clips well, good looking), but nothing special, except its pretty high price.
i liked its predecessor the prowire better, although the new one is stronger.