Speed Screw
Item Details
|
Reviews
(
3
)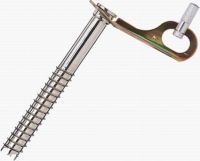 3 Reviews
Review
Review by: adamtd, 2005-03-05
An absolutley great product for the price. I'm a firm believer that if you know how to place a screw, omegas are just as easy to place as BD, but for almost 1/2 the price. Omega also offers great package deals when you buy 4 or more. I use all lengths and have been happy with them all.
Review
Review by: euroford, 2005-02-17
these are a great screw and a huge bargain. they start and wind in as easy as anything else on the market at nearly half the price.
Review
Review by: mother_sheep, 2005-01-31
The besat screw on the market is FINALLY here. I've compared them to the ever popular Grivel 360 and the 360 falls short in comparison. This screw bites fast even in hard ice. The threads are sharper than ever. I've gotten them wet, placed them in my pack and forgot about them for a few days and there was no rust. The price is VERY afordable. I can't say enough about this product.