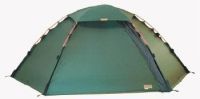 Manufacturer:
Hilleberg



This item may be available at:
Description
The Staika is completely self-supporting, with a spacious inner tent and vestibules within the regular shape of the outer. Without doubt this is one of the sturdier dome tents on the market, and a great choice when the weather demands that the other cheek be turned!
Staika is equipped with extra strong poles, and with all guy lines and pegs in place it will withstand just about anything. Like our larger, geodesic domes, it has hooks clipping on to the poles to facilitate pitching in high winds, heavy snow and driving rain. This system shows clearly that simplicity is still the best way to go. Its construction with long vestibules alongside the inner tent lets you reach all your gear from the inner tent.
A natural talent in the hills for all seasons, the Staika is particularly popular with coastal paddlers who are often forced to pitch their tent between the proverbial rock and a hard place – feasible, since the Staika does so without any pegs! But guy lines should, in priciple, always be used with all tents to make sure that in strong wind the tent does not part company with the owner.
Since, as with all our tents the inner and outer can be used separately, the Staika is as versatile as any tent from our range. The outer makes a great shelter for a group of four during a downpour while the inner can be pitched without problems when merely a shelter against insects in warm and dry environments is needed.
OUTER TENT FABRIC: KERLON 1800
COLOURS: GREEN AND RED
* Min. weight: 3.2 kg / 7 lbs ~ Packed weight: 3.7 kg / 8 lbs 2 oz (Minimum weight includes inner tent, outer tent and poles while packed weight refers to the complete tent)
A complete tent consists of inner and outer tent with guylines and runners, poles, pegs, stuff bags, spare pole section, repair sleeve and instructions.
* inner tent height: 44 in. ~ area inner tent: 34.5 ft² ~ area vestibules: 9.7 ft² each
STAIKA ADVANTAGE:
~ Outer tent fabric in Kerlon 1800.
~ Inner tent fabric in water repellent and venting nylon.
~ Heavy duty nylon ground sheet with PU coating, high bathtub floor.
~ Pole attachment with hooks – facilitates pitching of larger dome/geodesic tents.
~ Three poles of equal length in 10 mm.
~ Full size no-see-um netting in inner tent entrances (with covering panel).
~ Two spacious vestibule for (wet) gear, meals, etc.
~ Vertical inner tent entrance.
~ Two strong guy line attachments and double line runners on each side of pole sleeve and further possibility to attach guy lines to the poles.
~ Protective flaps over entrance zippers.
~ Large, adjustable vents, with snow-proof venting fabric placed high up in the roof, under protective cover.
~ Linked inner and outer tents set up simultaneously – both can also be pitched separately.
~ Loops for clothes line and pockets in the inner tent.
~ Colour coded pole sleeves for ease of pitching.
INNER TENT:
Pitching of inner tent requires extra pole holder-kit - see accessories.
South of the Sarek National Park in northern Sweden lies the Staika mountain range.
Equipment
Poles: Aluminum 10 mm dia.
Pole length: 3 x 152.4 in. (387 cm)
Pegs: 16
Stuffbag, pole bag, peg bag, guy lines, line runners, spare pole section, pole repair sleeve, instructions.