Stamina 70
Item Details
|
Reviews
(
3
)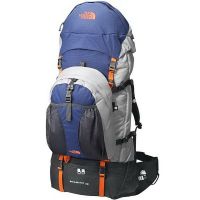 Description
The large-capacity Stamina mirrors your natural movements with its carbon-fiber X frame suspension, making it easy to haul multi-day loads. Breathable aerofoam back panel wicks moisture. Integrated rain fly tucks into designated pocket. Other hiker-friendly features include detachable daypack, side access zipper, sleeping bag compartment, cranial cavity and clear map pocket under lid.
FEATURES:
Hydration compatible.

Medium fits torsos 17-20".
4300 cu.in. (5000 cu.in. extended).
7 lb. 2 oz.

Large fits torsos 19-22".
4600 cu.in. (5200 cu.in extended).
7 lb. 9 oz.
3 Reviews
Review
Review by: jhump, 2003-04-04
7 pounds 2 oz for only 4300 cubin inches. There are larger haulbags that weigh less than this pack.
Review
Review by: foograbbinstone, 2003-04-04
I think it's a great pack. I got it from a REI gear sale for 70 $. The attatchable day pack is perfect for a few essentials during climbing. The pack overal is very form fitting and stable in varied conditions.So far I've used mine winter camping in Franconia Notch NH, and, once climbing.
Review
Review by: straightedgeteen, 2003-04-04
I love the way this pack fits! it has alot of features! I got this pack for $200 its just a great pack. I recommend it!