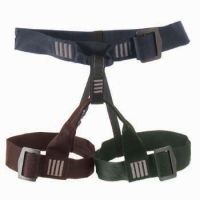 Description
This harness was designed as an aid to instructors. Perfect for ropes courses and gyms. Fully adjustable to fit youth and adult. Three-color design makes this harness easy for teaching beginners.
2 Reviews
Review
Review by: mountain_racer, 2006-06-11
This is the most easily adjusted entry level harness I have found (it is identical to their Guide except for the color scheme). They used to make a padded belt and gear loop that I bought. I bought it as a loner but I have used it for alpine and industrial applications. Overall an excellent value!
Review
Review by: aulwes, 2004-05-22
Very basic harness. Very nice for loaning out to your non-climbing friends. One size fits all.