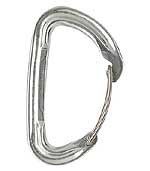 Manufacturer:
Salewa



This item may be available at:
Description
Another contender in the 'lightest biner' competition. Weighs only 30g but is still full strenght. Major axis: 23 Kn Minor axis: 8 Kn Open gate: 10Kn
1 Review
Review
Review by: qwert, 2005-10-15
first: the carabiner pictured on this sit is a SUB 30 safe. the SUB 33 is the "normal" biner. also there seems to be some confusion about the strength of that thing. here on the site it says major axis: 23 kN, minor: 8 kN gate open: 10 kN, while the Salewa hompage says ma: 23, mi 7 an open 9, whereas the carabiner itself says 24, 7, 9.

i think the last one might be the most accurate, since it also is the same strength as the trango superfly, wich is most likely the same biner.

the biner itself has a pretty good handling, despite its small size and the weird "reverse bentgate". however i havent tried it with gloves on my fingers. the finsh of it is pretty good.
cheaper than most other ultralight biners, but still pretty expensive, especially compared to the trango superfly. can anybody confirm if those two biners are really the same ones?