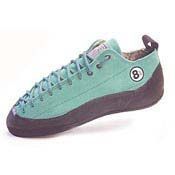 Manufacturer:
Five Ten



This item may be available at:
2 Reviews
Review
Review by: 1873ak, 2005-01-04
An excellent beginners shoe, which is what the Summit has been for me. I am, however, starting to progress beyond the shoe, primarily in heel hooking. The Summit has very little rubber on the heel so it doesn't work very well for hooking. Overall an excellent entry level shoe. Rubber has held up very well, no noticeable stretch to the upper either.
Review
Review by: bigs, 2004-04-06
This was my first pair of rock climbing shoes. I got them dirt cheap through a friend, and they have really helped me get into climbing. I think they are an excellent shoe for any beginner.