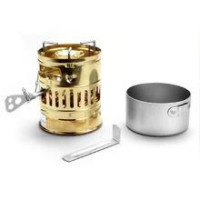 Manufacturer:
Optimus



This item may be available at:
Description
Clean the fuel jet while the stove is in operation--built-in cleaning needle keeps the jet clear by pushing deposits out; no parts to lose Control-valve key doubles as a mini tool box; wrenches required for field maintenance have been stamped into the key Brass windscreen has built-in pot supports which fold-in for compact storage Aluminum lid also serves as a small pot to cook in; detachable handle Beautifully crafted of solid brass, the ultra-classic Climber Svea 123R stove looks like a museum piece-- but fires up like a mini blast furnace Generations have relied on the dependable performance of this nostalgic stove Specs Specification Description Suggested use Backpacking/climbing Weight (w/ no fuel) 19 ounces Dimensions 4.1 x 7.1 x 7.1 inches Fuel White gas Average boil time 7:38 minutes Fuel capacity 4 ounces Burn time (max flame) 75 minutes Heat output 4,700 british thermal units Ease of operation Good Cold weather use Good Stove stability Good Pot stability Fair
2 Reviews
Review
Review by: kimgraves, 2006-01-18
Great for what it is: an idiot-proof liquid gas stove. The only moving part is the valve. Mine's +30 years old and still works fine.
Review
Review by: rcaret, 2003-09-24
It's small and lite for a liquide fuel stove , No pump to break and the shaker jet cleans easy .