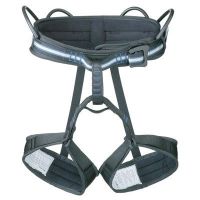 Manufacturer:
Arcteryx



This item may be available at:
Description
Description:
An all-around champ, the Arc'Teryx Targa harness takes on everything from big walls to short sport routes and comes out on top - just like you.
Features:
The waist belt of the Targa is three times wider in the back than at the tie-in point
The narrow tie-in point is very mobile while the wide back is appreciated when hanging out
Surefit™ 3" leg loops expand to fit a variety of leg sizes within a given waist size
High quality micro-fleece inner surface for added padding and comfort
Full strength haul loop adds additional versatility
Specifications:
Weight: 13 ounces (368 gm)
Belay loop: Yes
Gear loops: 4
Padded waist: Yes
Padded leg loops: Yes
5 Reviews
Review
Review by: c-money, 2004-07-10
This is an OK harness - it was the second harness I owned. The Targa is a good all-around harness. It does everything well and is fairly comfortable, however I feel it is comparable to harnesses from other companies (BD Momentum, ClimbHigh, etc) that cost less... The petzl harnesses are slightly more money, but are much more comfortable (in my opinion), and you can buy a comparable harness for under $50. I don't think it is a great buy for the price.
Review
Review by: badacidtrip, 2004-04-14
This is the only harness I own. I have had it for over five years. It rules. I've never had a problem with it. I've been sport climbing, gym climbing and trad climbing with it. It has withstood all I've dished out. It's taken a 20-foot whipper, an hour hanging belay while bringing two climbers up to me. It's been through squeeze chimneys and taken me to 5.11d. Needless to say, I am very pleased with it.
Review
Review by: stick233, 2004-03-04
only harness i've owned, 5 years strong now. great harness with plenty of room to rack your trad gear and comfortable for a full day multipitch. i highly recommend it. if you are looking for adjustable leg loops the verro is the same harness with adj. loops.
Review
Review by: drkodos, 2004-03-02
Large harness loops. Haul loop in the rear. Closed c ell padding. Owned for over ten years and still going strong with an average of 150 days a year of climbing. Best harness on the market, best buy for the $$$.
Review
Review by: nzchrisb, 2004-02-23
Got one a couple of months ago. It's great.