Terraplane LTW
Item Details
|
Reviews
(
1
)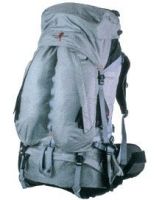 Description
High volume and fully featured it sets the bar for larger packs of its kind; from overnight excursions to long extended trips this a true favorite of experienced backpackers.
5800 cu in
1 Review
Review
Review by: roc-dude, 2003-04-04
You can't say enough about this pack. I have had mine for six year. since then I have bought six packs over 4000 cu inches and the pack I always go back to is the Terraplane. It really carries the heavy loads well and is super comfortable. I love the two outside zipper pockets easy to organize well. The craftmanship is unbeatable. I use it from overnighter to multiday trips. I really push it's size on winter multiday trip. I do carry a lot of stuff and with the over size winter gear I can fill it up. I don't have any thing bad to say about it, well, maybe the price. But you do get what you pay for.