The Best Use of a Life Time
Item Details
|
Reviews
(
1
)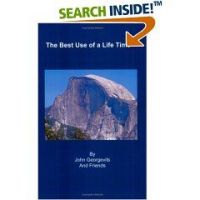 Manufacturer:
Other



This item may be available at:
Description
This book is about answering the question, "What is the best use of a life time?" In it, John Georgevits combines his own personal passion for rock and ice climbing with ideas from the world's great philosophers and religions to develop a framework for making the right choices in life.
In five simple steps he builds an approach that lends its self to making choices from what climbs you should be doing, to what job you should take. In doing this he combines ideas ranging from western rationalism to Buddhism and Zen. In addition, he goes past just making the choices to maximizing performance and understanding the consequences.
The Best Use of a Life Time is available at Amazon.com; just click below...
1 Review
Review
Review by: j_ung, 2005-09-25
[b]Full Disclosure: The company that manufactured this product provided it free of charge to RC.com and RC.com then provided it as compensation to the reviewer for his or her review. This company does not currently advertise on RC.com.[/b]

If life is a journey, then the choices we make are the turns. But unlike an actual road trip, which is punctuated by signs and directed by maps, life is more complicated. We're left to wander, hopeful that we're headed in a good direction and that the choices we've made are sound. Compounding the situation is the human inability to view our selves and our choices objectively.

Enter John Georgevits, author of [i]The Best Use of a Life Time[/i] from Cogent Catalyst Publications. [i]The Best Use of a Life Time[/i] aims to do what many have tried in the past and what just as many have failed to do, namely give the reader a usable framework for making crucial life decisions. Georgevits, a long-time climber, computer programmer and philosopher, has spent as much time pondering life as traveling through it. His commitment to sharing his insights shows clearly in [i]Life Time[/i], the result of years of raucous conversations with friends and quiet introspective moments contemplating principles of history's philosophical elite. "It turns out the answer is really quite simple," writes Georgevits early in the book. "We make the best use of our life time when we make the right choices."

Georgevits is careful to point out that his method of making choices doesn't guarantee that everything will always turn out peachy for the chooser. He does, however, promise that if you follow his model, you can rest secure in the knowledge that you did all you could to make the right choice. That security, explains Georgevits, is what allows us to look back on even the choices that didn't work out with few regrets.

Georgevits peppers [i]Life Time[/i] with first-person climbing stories to illustrate all of his key points and those are the times when he is at his best. The book opens with him describing an early alpine start before he will attempt the Nose in a day. He tiptoes around his still-slumbering family, prepares a spare breakfast and reflects on his situation… forty-five years old, computer programmer… Is he in good enough shape? How will this affect his family? And immediately the reader is impressed with the gravity (pardon the pun) of his choice to climb and the process by which he has come methodically to his decision.

Over the course of the rest of the book, Georgevits hands us story after story to paint a picture of each step rather than just tell it to us. Throughout the book, one can visualize easily the author deep in the process of writing it, using his method all the way.

Georgevits' approach to decision making is simple and rings true on many levels. Though he relies heavily on established philosophies and religious doctrine (especially at the end of the book), he gives preference to none of them and treats all equally. As much deference is paid to Samurai philosophies of action as to Christian values and that's refreshing, to say the least.

But, [i]The Best Use of a Life Time[/i] is not without its shortcomings and unfortunately, its worst is quite a doozy.

When I read a book – [i]a published book[/i] – I expect a certain amount of work beyond just writing to have gone into its publication. A book is never an individual effort. A writer pens it, but several eyes must edit the text and even more proofread it to ensure that the content flows and the audience is not distracted by mistakes. Editing and proofing are unbelievably hard work, and they are even harder for the writer. One of the cruel tricks of writing is that you tend to see what you expect to be there, instead of what actually is, hence the need for other eyes. Typically, editing and proofing are the responsibility of the publisher, in this case Cogent Catalyst.

And indeed, the editing and proofing process is where Cogent Catalyst drops the ball – a 16-pound bowling ball – right on John Georgevits' foot. [i]Life Time[/i] is plagued by typos and errors – several per page throughout the entire book. Were I reading, for example, an RC.com forum post, I wouldn't care. But in a book with a $16.95 price tag, I certainly expect more effort to have been put into quality assurance. I won't hand you a laundry list of errors, but I will note two. One is [i]Life Time's[/i] stubborn refusal to allow any line of text to end in a hyphen. The result is that each sentence has a different amount of space between it and the next. Sometimes it's one space, sometimes two. Many times it's four or five spaces between sentences, resulting in large white empty boxes in the midst of paragraphs that would otherwise flow. But the most grievous violation of style is in the title of the book. [i]Lifetime[/i] is one word in almost every circumstance, but throughout this book (including the cover) the copy alternates between "life time," "lifetime" and "life- time". The cumulative effect is one of a college thesis formatted by a coffee-drunk student in the 47th hour of a two-day study bender, not a published work.

To his credit, Georgevits makes an obvious effort to bring non-climbers along with him by explaining climbing terms and including a glossary. But with so many climbing analogies and only cursory non-climbing examples, it's difficult to imagine this book having any appeal to anybody but a climber. With fewer climbing and more non-climbing anecdotes, it might expand its audience. Personally. I think it would be better to delete the glossary and explanations and stick to a climbing audience through and through.

Believe me, I hate to point all the above out to you, since I really do like the decision-making model that Georgevits expounds. He makes a lot of that plain ol' common sense that, for reasons unknown, is often fairly UNcommon. To boot, he's donating 25% of all proceeds to the Access Fund, of which I am, of course, a member. I'll recommend this book to you, but only if you don't care about errors. If you're one of those who snaps painfully out of the world a good book creates every time a mistake rears its ugly little head, choose to read something else. This sloppy little journey won't be worth it to you.

[i]The Best Use of a Life Time[/i] is available on Amazon.com or directly from [url=http://www.aimhieducational.com/Books/CogentCatalystPublications.html]Cogent Catalyst[/url].