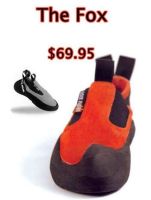 Description
A high performance slipper that goes on easy thanks to its three pull-on loops. Asymmetric last and unlined leather uppers conform to the foot with a vacuum fit. SUPAGRIP227 rubber sole is powerful on small edges and pockets while still providing incredible friction.
1 Review
Review
Review by: bflank, 2004-04-02
Basically looks like a clone of the Cobra. Good all around slipper, but get them tight if you don't wnat them to slip around. I've used them for trad & had to pull my heels out while belaying to relieve the pain. Not a criticism, just a fact.

Can't go too far wrong for the price.