The Outdoor Knots Book
Item Details
|
Reviews
(
1
)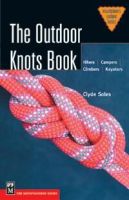 Description
Written by Clyde Soles (RC.com member csoles). This is the best book I have ever encountered on the subject. Many misinformed posts on ropes and knots could have been avoided if this book had been read beforehand. Well done Clyde.
1 Review
Review
Review by: geezergecko, 2004-05-03
Most climbing books I read a bit here, a bit there, skim the rest. This I read from cover to cover. It was the different ways in which to tie our favourite knots that I really liked about this book and the very detailed description of what rope really is.