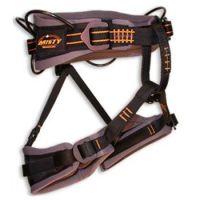 Description
Equally at home aiding a big wall or free climbing desert towers, the Titan provides the ultimate in comfort, adjustability and features for any climbing adventure. Dual density foam combined with laminated outer layers evenly distribute forces from the main tie-in throughout the harness for maximum comfort and security. Double buckle design, adjustable leg loops and six gear loops facilitate optimum adjustability and racking access. Expertly crafted by America's best, the Titan is the finest big wall harness in the world.
Layered construction spreads load over padding
6 gear loops, haul loop, belay loop
Dual density foam
1 Review
Review
Review by: roc-dude, 2004-02-29
The very best and top of the line harness. OK it is very expensive and a little bulky, but if you are going to do Trad climbing or aid climbing or hanging belays this is a super comfortable ride. The many gear loops and the thick and padded waist belt and leg loops make it fab for being on a route all day with lots of gear. The quality and craftmanship is unmatched. It is not for gym climbing or sport climbing. If you have the money go for it..