Tite-Grip
popular
Item Details
|
Reviews
(
4
)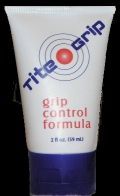 Manufacturer:
Tite-Grip



This item may be available at:
Description
Tite-Grip is a topical hand cream which was formulated to stop your hands from perspiring, it is non-sticky and works between 4 – 6 hours. To apply Tite-Grip put a small amount in your hands and rub them together, you will immediately feel three things happen:
1. Moisture will be drawn from your hands
2. Your hands will become temporarily sticky
1. Your hands will become dry and stay dry
Tite-Grip will keep your hands & feet dry while skiing. You will stay dry, feel warmer and ski longer.
4 Reviews