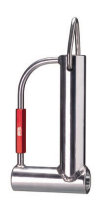 Manufacturer:
Petzl



This item may be available at:
Description
TUBA Descending brake When the descent is long and you need to extend your rope, the ability of the Tuba to allow the passage of joining knots is unsurpassed. Two ropes under tension can pass through the Tuba. Constructed from aluminium and stainless steel, the Tuba is an effective alternative for lowering heavy loads or persons by taking turns of rope around the tube. Specs : Weight: 1240 g Standards :UL Classified to NFPA 1983 (1995) Ref.# :D12
1 Review
Review
Review by: philbox, 2003-05-01
This product is simply top notch. I have used it several times for a variety of jobs. For rescue loads and high access rope work this device is second to none. It is not something that the ordinary joe blow climber would ever worry about going out and buying. The sort of jobs I have used it for is where I wish to set up a rap main line on a building and be able to perform a rescue such as lowering an injured worker to the ground without myself having to go over the side. I place this piece of kit at the halfway point on the rope ensuring of course that the end of the rope touches the ground. I tie a no knot around the device and then tie that knot off and clip a carabiner to that tie off knot to ensure that the knot is totally bombproof. I`m then able to if needed undo the backup knot and lower an injured or stuck worker to the ground. This gear is very versatile and way strong.

...Phil...