Twin Peaks
Item Details
|
Reviews
(
2
)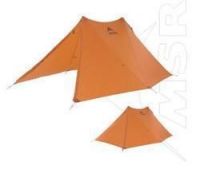 Description
Features: Super-lightweight 1 lb. 12 oz. of dependable weather protection. Versatile Designed for harsh alpine conditions but also great for spring skiing and summer backpacking. Well-ventilated Peak ventilation reduces condensation and makes this shelter safe for use in snowy conditions. Easy Setup Sets up with any poles or with guy cords tied to an overhead object. Redesigned Doors now open fully for easier cooking and additional venting. Ski-compatible Replaceable cord stake loops can be enlarged for use with skis.
2 Reviews
Review
Review by: mattgosselin, 2005-03-26
good shelter!! used in rain sayed dry
i used it to top to a snow cave
it was -20 and got a foot of snow
still a good shelter

if you were going to do lots of winter camping
use your teking poles and guide it out to trees
ok on ventilateing but still frosted up
Review
Review by: climb513a, 2004-10-05
Well ... a awesome tent for summer / spring / fall. I have personally hiked around for more than a few weeks in each season and it holds up well. SilNylon it appears - is very very nice in the rain. I have to say that not having a bottom freaked my out - but it works awesome! Not a bad thing and definitely saves on weight when not necessary. When I do need a bottom layer I use a blue tarp. Easy as that! Also sets up using my trekking poles (MSR DENALI I) which is very nice - but can also be guyed out to a tree or two. Rats will sleep with you and all other rodents present in the area. Thats ok though ... they are nice furry friends anyways ... yeah right.

All for 1.5 pounds? Ill take it.