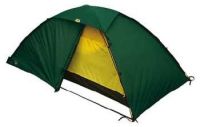 Manufacturer:
Hilleberg



This item may be available at:
Description
The simplicity of the Unna is a winning concept. A tent that appeals to continent bagging globetrotters, mountaineers and kayakers. Unna is a small but robust dome tent that, despite its generous dimensions and self-supporting qualities, has a very low weight.
You can use an Unna in all sorts of weather in any season. There is enough room even for the larger person including a lot of gear. But also two people will find it possible to stretch out if equipment is left outside.
The fact that this model is self-supporting does work to your advantage when you want to pitch it on a surface that does not take ground pegs easily.
According to many, the Unna is a very unique tent since it does not have any vestibules. For this reason this dome is incredibly easy to handle and use! The Unna is a tent for those who enjoy travelling alone and want the least of fuss when setting up camp. If you desire some room under the protection of the outer tent but outside the inner you simply detach the inner tent partially in the corner where the entrance is. This also enables you to get in and out of the tent when it rains without getting the inner tent wet.
Using the inner by itself is as easy as 1-2-3 and works very well when the protection of the outer tent is not necessary or desirable in warm and dry conditions. The outer by itself is an uncomplicated way of keeping four people dry during lunch on a hike in Nova Scotia or when trekking up Ben Nevis.
OUTER TENT FABRIC: KERLON 1200 COLOURS: GREEN AND RED
* Min. weight: 1.7 kg / 3 lbs 11 oz ~ Packed weight: 2 kg / 4 lbs 6 oz (Minimum weight includes inner tent, outer tent and poles while packed weight refers to the complete tent)
A complete tent consists of inner and outer tent with guy lines and runners, poles, pegs, stuff bags, spare pole section, repair sleeve and instructions.
* inner tent height: 40 in. ~ area inner tent: 27 ft²
UNNA ADVANTAGE:
~ Outer tent fabric in Kerlon 1200.
~ Inner tent fabric in water repellent and venting nylon.
~ Strong nylon ground sheet with PU coating, high bathtub floor.
~ Both poles of equal length.
~ Adjustable pole tensioners wide enough for "double poling".
~ Pole sleeve with one opening only with room for "double poling".
~ No-see-um netting in inner tent entrance (with covering panel).
~ Vent in outer tent can be closed completely.
~ Outer tent vent of water repellent and snow proof fabric under cover.
~ Linked inner and outer tents pitch simultaneously – both can also be pitched separately.
~ Two strong guy line attachments and double line runners on each side.
~ Clothes line loops and inner pocket in the inner tent.
INNER TENT:
Pitching of inner tent requires extra pole holders - see accessories.
Unna means small in Sami.
Equipment
Poles: Aluminum 9 mm dia. Pole length: 2 x 152.4 inches (387 cm) Pegs: 12 Stuffbag, pole bag, peg bag, guy lines, line runners, spare pole section, pole repair sleeve, instructions.