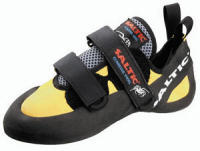 Manufacturer:
Saltic



This item may be available at:
2 Reviews
Review
Review by: destroyer5000, 2004-11-07
These have been my favorite shoes to climb in yet. I've been using them for at least 6 months up to 4-5 days a week and the rubber/shoe construction is still in great condition. They have a powerful heel giving you a high permormance toe ideal for steep climbing. These features combined with high sensitivity makes this shoe an all-around great technical climbing shoe that will go the distance. I highly reccomend this shoe for your next buy.
Review
Review by: otc, 2004-07-13
I am crazy about these shoes! They edge well, heel hook well and fit like a glove. I get plenty of sensitivity out of them and the rubber is very durable and sticky. There is a slight camber to the shoe that adds to the performance. There is plenty of room to adjust the velcro on the outside edge which gives it a great variation in width. I also like that they are synthetic and don't stretch, it took out the guesswork and made choosing my size a snap!