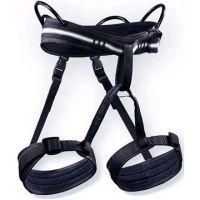 Manufacturer:
Arcteryx



This item may be available at:
Description
The Arc'Teryx Verro is a versatile harness that can take you from a sport route to big mountains without hesitation. With adjustable buckle leg loops, this harness will accommodate thin summer garb and thicker winter clothing alike. The Verro is sculpted uniquely in the waist, legs, and hips for optimal fit. Because the harness is molded, Arc'Teryx is able to laminate the harness fabric to the foam padding providing seamless construction and unparalleled comfort. The Verro comes equipped with 4 gear loops and ice devices that serve as a special racking system for your ice screws (very nice!). Width & thickness are tapered at the front of the waist & legs for unparalleled comfort, mobility, and performance. Buckled leg loops are fully adjustable. A senior ballistics outer surface delivers superb durability, while the Verro's inner surface is covered with micro-fleece.
3 Reviews
Review
Review by: dune, 2006-09-11
I like the two oversized gear loops, so I bought it. Good comfort and versatility. Trad or sport it's very good.
Review
Review by: rrradam, 2004-04-02
My first harness, and still my choice for sport / gym climbing. Light and comfy.
Review
Review by: emtclimber, 2004-02-17
I like this harness a lot, it's comfortable and breathes well, I didn't get the infamous ice racking parts with mine though :( I also think the gear loops are a little far back, and it's a little more pricy than some but otherwise a good harness in my opinion.