Vertical Frontier
Item Details
|
Reviews
(
2
)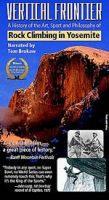 Manufacturer:
Other



This item may be available at:
Description
Tom Brokaw narrates this 2002 documentary produced by the Sierra Club. David Brower, Royal Robbins, Yvon Chouinard, Jim Bridwell, and Lynn Hill are featured. The documentary covers early climbing, the first ascents of the nose and half-dome, the advances in gear and style, and the struggle to save camp 4 in the late 90's. Includes a lot of historical footage, new footage, and some footage from the Masters of Stone series.
2 Reviews
Review
Review by: blake_wrinn, 2006-06-10
This is the coolest climbing video ever! it is so interesting to see how this sport we all love, which this website is based on, was started! from hemp ropes and pitons to speed ascents of El Cap's Nose. it's easier to figure out where we can take climbing if we know where we came from! So fantastically interesting!!! A must own!
Review
Review by: rgbscan, 2005-12-03
Happened across this DVD while browsing at Netflix. Turned out to be really interesting. I have so much more respect for the climbers who came before me now. There are definitely some great action segments but a lot of interesting historical background as well. Would have given it a 3.5 if that was an option. Definitely one to add to the rental list!