Vertical Heartland 3rd Edition
Item Details
|
Reviews
(
1
)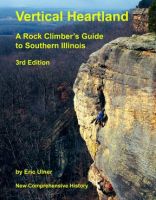 Manufacturer:
Other



This item may be available at:
Description
This book is a guide to southern illinois including such crags as Jackson Falls, Draper's Bluff, Cedar's Bluff, Giant City State Park, and Ferne Clyffe State Park.
1 Review
Review
Review by: foyster, 2006-01-30
This is a great guide book, and it's hard to find faults. At 328 pages, this book covers tons of routes, with the vast majority from Jackson Falls. There is also a substantial history of climbing in SoIll, which is kind of cool, if just for marvelling at the old school techniques and gear (or lack of!). The descriptions are dead on, and navigation is pretty straightforward as long as you keep the book out and keep orienting yourself using the provided pictures and descriptions of routes. The are cliff maps provided for large regions, which also help in navigation. The binding is a coil similar to a really thick notebook, which is really convenient if you want to hold it in one hand and stay on the same page. So to sum it up, if you're thinking of heading to SoIll, go ahead and pick up this book, it's way better than the Dr.Topo version and is well put together. Oh yeah, I don't know how complete the bouldering section is, cause I don't boulder much, so I can't really comment there.