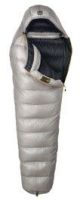 Description
Continuous baffles
Full draft tube with 2 sided neck collar
Full length zipper
Single external hanging loop
Color/Shape coded draw cords
FITS TO 6'
SHOULDER GIRTH 62"
FOOT BOX GIRTH 40"
FOOT PANEL 12" x 10.5"
FITS TO 6'6"
SHOULDER GIRTH 63"
FOOT BOX GIRTH 40"
FOOT PANEL 12" x 10.5"
WEIGHT 1lb.15oz/.88kg. Regular
WEIGHT 2lbs.4oz/1.02kg. Long
FILL 750+Down
TEMP 15°
1 Review
Review
Review by: scubasnyder, 2004-07-21
This bag is pretty good for cold weather, the best thing about it is the lightweight, they are a bit pricy though i took mine back because i found a nice 0 degree bag for much cheaper.