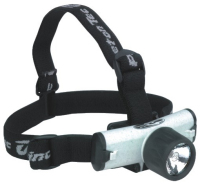 Description
The VOR TEC offers the same important features as the SOLO but provides twice the brightness. The VOR TEC has been configured to provide significant extended burn time with the use of lithium batteries, no bulb conversion is needed The front mounted battery pack eliminates the need for external wiring systems.
Specifications:
Power: 4 Watts
Batteries: 4 AA Duracell ® (included)
Reflector: Focused wide & narrow
Burn Time: 3.5 hrs. Halogen / 8 hrs. Krypton
Weight: 8.0 oz. with batteries
Bulb: Halogen & Long Burn
Storage Bag: Mesh
Waterproof: 2000 ft.
Warranty: Lifetime
4 Reviews
Review
Review by: keste, 2004-05-28
A good headlamp for finding the trail. Eats batteries comparatively. But if you're lost and using a LED headlamp, you're probably going to stay lost.
Review
Review by: roc-dude, 2004-04-26
If you want a bright headlamp this is the one. My Vor Tec came with two bulbs. One is super bright, I never use this one. The second is a regular bulb and it is super bright plus it does not eat battery. I don't use the vor tec very much because it is to heavy and most of the things I do when it is dark can be done with a LED headlamp. But when I need the bright light I go for the Vor Tec..
Review
Review by: n00b, 2004-04-22
second what you say about being bright. i use one for caving, and it is much brighter than many external battery pack powered lamps. only downsides are wieght (compared to many led headlamps) and battery life. 1 set of batteries will last about a full day, and it will be many times brighter than most led headlamps. being waterproof is nice too.
Review
Review by: scubasnyder, 2004-02-09
Probably one of the best headlamps for climbing. The only drawback is it eats batteries pretty quick, but its so brigt it doesnt even matter. Waterproof so you dont have to worry about it shorting out and not working, pretty impact resistant too. I dropped mine a bunch of times and the bulb didnt break. Great light to get i recommend it.