WALL PULLEY
Item Details
|
Reviews
(
2
)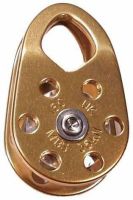 Manufacturer:
Yates



This item may be available at:
Description
Weight 2.8oz(79g). Strength 35kN.
2 Reviews
Review
Review by: smt2003, 2005-07-24
When I saw the picture of it online, I thought, "sweet". But when I got it in the mail I was a little disappointed. It is very small. It is nice if you don't feel like carring around a big and heavy pully. For $20, you get your money's worth.
Review
Review by: montafoner, 2005-03-08
These are very nice rescue pulleys. I say rescue because they do not have a very large radius and would make continuous hauling a pain in the a$$. I would recommend one (or two) of these on everyone's harness. My moto is: if you bring it, you probably won't use it. Luckily I have never had to use these in a rescue situation, but they do come in handy for tightening a slackline. For under $20, there is no reason not to have one.