WindStopper Tech
Item Details
|
Reviews
(
2
)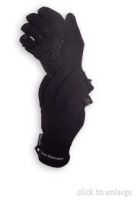 Description
* Indespensible glove for all ice climbers * Pittard goatskin palm is grippy and H2O resistant * Lightweight, warm and windproof
2 Reviews
Review
Review by: climbhigh23, 2004-12-14
always using these gloves for something, whether it be scraping ice and snow off my truck, or ice climbing. very good, very versatile glove. very tight fit, and not much stretch do make this glove interesting to get on and off.
Review
Review by: sarcat, 2004-03-04
Use them for ice all the time. They are thin and tight so they make using express screws not so bad. They are a bit expensive. They are also difficult to get off because the cuff is so tight. On approches I usually wear expidition glove covers over them.