X-Comp Bent
Item Details
|
Reviews
(
3
)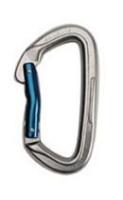 Manufacturer:
Metolius



This item may be available at:
Description
The X Comp Straight and Bent Gate Carabiners are exceptional multi-purpose biners for all climbing applications. CE/ISO 9001 approved, high strength alloys and exceptionally low weights with a perfect ergonomic shape for easy use. Gates are equipped with a balancing spring for easy opening and fast closing. Perfect for clipping gear or rope, racking your gack or building anchors.

.8 oz (51 g)
Major Axis Strength: 5625 lbf (25 kN)
Minor Axis Strength: 2025 lbf (9 kN)
Open Gate Strength: 2025 lbf (9 kN)

Metolius
3 Reviews
Review
Review by: onbelay510, 2005-01-03
Seems more difficult to clip than others. I have some on draws, but reach for something else if I can when pumped.
Review
Review by: roc-dude, 2004-05-07
I found these to be good biners the clip well and seem to take abuse and keep on ticking. On the down side they weigh a little more than I like. I feel they work best on draws.
Review
Review by: dynoguy, 2004-03-02
nothing special aobut this biner. Not that great on difficult clips but does the job fine.