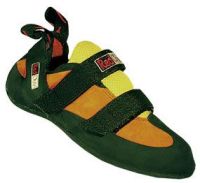 Manufacturer:
Red Chili



This item may be available at:
Description
Combining the convenience of velcro with the weight and feel of a slipper the X-cube is a shoe built for hardcore. An instant classic this superb shoe sets a standard in fit and performance for all other velcros to follow. New fot 2004 the X-cube features: a new last with lower volume forefoot, this "locks" the foot in the sharp asymmetric toe profile to give immense confidence on even the smallest pockets, smears or scrapes; a wider entry with super comfy cushioned foam and a smaller, reshaped slingshot that really hugs the heel. Team feedback meant we added rubber over the toe for hardcore boulders and comp climbing to give extra bite for "frogging" or the tiniest of toe scrubs and a new light midsole simply adds to the amazing "feel" of this shoe. This is a shoe that works superbly as sporrts or extreme all raounder but really comes into its own as a bouldering shoe "par excellance" for outdoors, indoors or the "woody". New last for a superb fit and precise toe profile
Extra toe rubber for toe hooks and scrubs
Light super flexi midsole for mega-feel
Super sticky 4 mm Vibram rubber for ultimate adhesion
Slip lasted with "glove soft" leather for instant fit
New shape slingshot heel for close fit and brilliant hooking
Wide opening for easy entry
Standout orange/yellow colourway
Twin pull on tabs
Sizes Uk 3-12 including half sizes
5 Reviews
Good value for money
Review by: super80drivr, 2006-11-20
They are at their best when you need serious toe control and "trust-that-foot" security, but also don't want numb toes/feet when you done with the pitch. Not as comfortable as Mythos, but more versatile and of higher quality than the omnipresent Katanas. These shoes will not stretch with use, or if they do, it is no more than an eighth of an inch or so, max.
X-Cube quality is great, and value for money is as well: great in the gym, easy on and off (they are NOT an all day on shoe...) lots of control when you crank on the toe or heel: they will catch and hold the smallest imperfections. The toes will blow out in what to me seems a relatively short time, but after a quality re-sole, they hold like new. A nice addition if you only have a softer sole shoe/slipper, or a nice main pair if you are primarily a gym-rat.
Review
Review by: martinheynert, 2006-05-29
Just great! The triple-graduated midsole gives you both excellent edging and sensitive smearing. Great idea in construction and it really works as promised.

Manufacturing quality is critical, size and level of asymetric shape differ from pair to pair even in the same size. When they improve their quality, that would be a real great climbing shoe.

The last is a broader one.

The toe profile is more flat, don't select this model to small (to short). It will NOT stretch a lot, and it will definitely not become LONGER more than approx. 1/4 size U.K. In the toe box, there is not much room for cramped or crunched toes.

Sole construction features a good compromise between toe gripping power and flat standing when smearing.

This is a great, great shoe with big potential, aimed for the more sophisticated climber.

Can be used on crags, for bouldering and for gym.
Review
Review by: ed280, 2005-02-06
A great shoe. Very easy to get on and off. The heel design really forces your toes forward and into a sort of crimp, making even the tiniest feature useful. I would recommend buying a pair half a size down from your street size (although obviously try them on before purchase). I love them!
Review
Review by: rockclimbr3, 2004-10-31
i love this shoe. they're great for gym climbing, pretty good for bouldering, smearing, edging, and they're easy to take on and off. there's only one downside to these shoes. everybody i know who owns these shoes including myself have had their left (and sometimes their right too) toe blow. the whole toe gets blown down to the point where you can see your toes. these aren't beginners either so red chilli can't make the excuse that it's because they're beginners. other than that the shoes are great.
Review
Review by: olipab, 2004-10-11
Really good boots. Comfortable and easy to slip on and off, good friction. Thay also look nice and the extre toe rubber is useful. Get these boots!