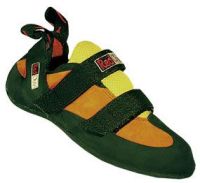 Manufacturer:
Red Chili



This item may be available at:
Description
The X-Cube from Red Chili is the culmination of two forces, Ben Moon and Stefan Glowacz. By taking the it's predessor the Dos Equis and changing some of the attributes Red Chili has created an extremely sensitive shoe with an amazing amount of power in the toe box. The Articulated rand extends over the forefront and allows for powerful scumming and heel toe cams. Made in Italy out of pre-stretched leather and covered in Vibram XSV the X-Cube is an effective sport shoe that doesnt get sloppy. Great for Bouldering and hard redpoints the X-Cube is a triumph for climbers looking for performance coupled with high quality!
2 Reviews
Review
Review by: elvis_climbs, 2005-02-24
I bought these kinda on impulse, not the best. the rubber is so so(as is all red chilli stuff) and the fit is a bit werd( the inside edge is extended so you get a gap just before your arch). but haveing said that if they fitted my feet they would be tres cool. theyare verry high volume so be awaere if you are cranking in the velcro alot
Review
Review by: 1800lotions, 2005-01-29
Damn!!! This is the only velcro aside from the Anasazi that fit's my foot! Edges really well and quite comfortable!