XGK™ Expedition
Item Details
|
Reviews
(
2
)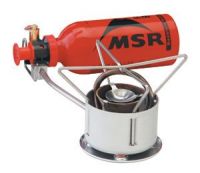 Description
The number one choice for extreme conditions around the world, the XGK is hands-down the most reliable stove in extreme conditions and high altitudes.
Shaker Jet technology makes cleaning as simple as shaking the stove.
Reliably burns more liquid fuels than any other stove
Boils water in 2.9 minutes (with kerosene fuel)
Extremely durable, field-maintainable design
Minimum Weight: 12oz (335g)
Packaged Weight: 17oz (480g)
2 Reviews
Review
Review by: fitzroy, 2006-06-10
I have two o them, one is more than 5 years old it has been used a lot and the pump is fixed with rubber tape and works great. It is not more round because it has been bend, hitted many times inside my pack back I usually give him the a rounded shape with my hands before without problem, the new one (less than 2 years) is harder and has its original shape yet. I have used it at 5000 meters with high wind. Use white gas if possible .. is cleaner..and buy a reparation kit for the field and the msr spoon! :)
Review
Review by: monkey_toes, 2004-08-19
Great product - had no issues so far. Price was right and for my money its the best out there.