XPD™ Cookset
Item Details
|
Reviews
(
2
)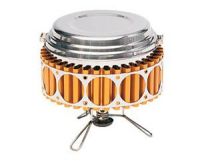 Description
Hands down, this is the most heat-efficient cookware system made by MSR. This set includes Alpine 1.5- and 2-liter pots that work with MSR's unique XPD Heat Exchanger around either one–which ups heat efficiency by 25%. The lid fits both pots and doubles as a plate; the pots nest with enough room for the Heat Exchanger and an MSR stove.
Tip: The bottom of the Heat Exchanger should be one inch below the bottom of the pot. This redirects heat from the stove around the pot.
Weight: 32oz/903g
2 Reviews
Review
Review by: jstp, 2004-11-28
This set is essentially the Alpine Classic Cookset (see my review of that one for info on the pots) with the addition of the Heat Exchanger. For those of you planning extended road trips, expeditions or lots of snow/ice melting this is definitely worth the extra cash and weight. The exchanger does markedy improve heating times, especially for melting snow and ice, where having the pot sides very hot greatly accelerates the melting process. The exchanger is also built to the same durabilty as the rest of the cookset. It will also fit on many other pots if your roadtrip kitchen includes pots with real handles (though it will not make it around the lobster steamer).
It will get your pasta water hot in a jiff, keep the potatoes simmering with less fuel, and keep fuel costs down in the long run, but is not for the fast and light weekend peak bagging.
Pros: a great cookset with super durable pots with added Heat Exchanger, reduced cooking time and fuel use, very good for melting snow/ice. Ideal for the road trip rig and expeditions.
Cons: A bit pricey, not very light.
Review
Review by: rockmaninoff, 2004-05-17
I got this cookset with the heat exchanger when it debuted probably 15 years ago. It has always worked well, and true to MSR's claims, it seems to bring water to a boil very quickly. I have not done any experiments to see how much the exchanger actually helps to conserve fuel. It seems that the exchanger would only be beneficial on extended backpacking trips, otherwise not worth the added weight.