Yosemite Valley Free Climbs
Item Details
|
Reviews
(
1
)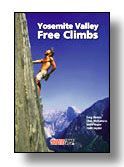 Description
Over 230 of the best routes in Yosemite Valley from 16-pitch trad climbs to one-pitch sport routes. In this 216 page printed guidebook, detailed coverage of Yosemite Valley topropes, crags, and multi-pitch climbs in the 5.4-5.9 range. Includes formerly obscure climbs to provide more options to avoid crowds.
1 Review
Review
Review by: p0bray01, 2006-07-19
I used this book more for hiking and scouting out places to climb in my next visit to the Valley. Pretty detailed topos! sometimes I would not have seen the bolt lines etc if I had not had the Book!

Could have a few more pictures (possibly colored) of the cliffs and its surroundings...just as land markers so you knew where you were.