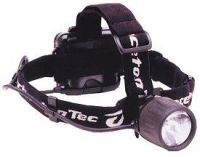 Description
L.E.D. technology comes to life once again at Princeton Tec with the introduction of the new Yukon headlamp. Whether you're nighttime climbing, paddling, setting up camp or reading a book, the Yukon is destined to become your best friend. Incorporating the best of both worlds, the Yukon combines the pure power of a focusable high output Xenon bulb for the darkest of nights with the 3 space-age super bright light emitting diodes for those low light and long burn situations. The L.E.D.'s are designed to last a lifetime and are configured in a triangle pattern to keep the beam of light even and smooth. With extended burn time and cold weather applications in mind, the Yukon is designed for use with 3 Lithium AA batteries or the included alkaline batteries. Like the lamp housing, the extreme battery pack was designed to fucntion like a small compact waterproof case ensuring waterproof integrity. The hinged lamp housing lets you point the beam where you need it and is mounted onto sturdy elastic webbing that offers a ton of adjustment for that perfect fit.
1 Review
Review
Review by: xprompt, 2004-06-01
I like the hybrid-ness but it lacks quality i think. the big batterypack at the back gets a bit heavy and the screw that holds the light up (angle of the beam)always loosens and flops down. maybe mine is defective. i have to search around for a better one.