Z-Lite - by Therma-rest
Item Details
|
Reviews
(
2
)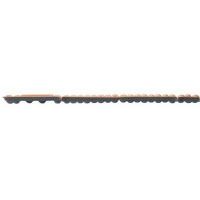 Manufacturer:
Other



This item may be available at:
Description
Z-Light™ pads are light, compact, and easy to pack – excellent for self-propelled folks who want to move fast and light.
Do you like the economy, lightness, and puncture-proofness of a closed-cell pad, but hate the early-morning wrestling match required to roll it into a manageable size? You'll appreciate the way Z-Light pads fold up effortlessly, accordion-style, into a compact package. At bedtime, they lie flat instantly, without curling at the ends. You can also creatively fold a Z-Light pad to improvise a seat for trail breaks or around camp. During the moulding process, extra compression is applied at the hinges to make them the strongest part of the pad.
The three-quarter length is good for shorter people, or for full-length folks who want to save weight by using spare clothes or the padding from their backpack under their head and feet. Suitable for three-season use.
Laminated EVA dual-density closed-cell foam.
Moulded egg-carton pattern increases softness, and traps air for extra warmth.
R-value (measures insulation provided) is 2.2.
2 Reviews
Review
Review by: qwert, 2006-05-21
not cheap but you get what you pay for.
with its structured surface its surprisingly comfortable for its weight, and its insulation capabilitys are prety good too. just dont use it as the only mat when you try to sleep on snow.
also the egg crate structure will catch snow ice and dirt, but i havent found this to be a problem so far.

qwert
Review
Review by: jimdavis, 2004-09-30
Awesome pad. Lays flat, water pools in bumps not on th surface, light and packs easilly (no rolling). You'll never have to worry about puncturing the pad either.

Best foam pad out there.