Zipka Plus
Item Details
|
Reviews
(
2
)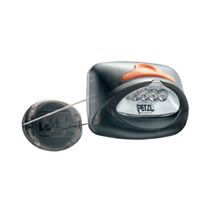 Manufacturer:
Petzl



This item may be available at:
2 Reviews
Review
Review by: coldclimb, 2004-11-13
I love it! Fits into any pocket, carries anywhere, sticks to your head so well you forget you're wearing it... the pros go on and on. Living in Alaska where it's dark more often than not, I carry this with me everywhere and use it all the time. A larger one would not be nearly as useful, but since this is so tiny and convenient, it is extremely helpful. The only problem I've found with it is that it's rather hard to find the button when you're wearing gloves, but it's still a five star product for sure!
Review
Review by: andrewph, 2004-11-08
The zipka plus has got 4 LEDs up from the three that the original had. and its nice and bright especially close up. I used it last night hiking out through a bog/swamp in the dark and it was good enough to stick to the trail and look around a bit. it doesnt stay on well with head gear.... my hood kept knocking it forward, though it will fit fine around a helmet that has 'light clips'. and it does shake a little but not so bad. I have also used it night climbing and didnt have any problems with it. it moves a little but it was'nt enough to bother me! but perhaps I wasnt moving around enough to shift. I have tried a frieds tikka plus which really does hold nice and snug to your head, but it is alot heavier. anyway i love it. it could be a little brighter at a distance. the zip cord thing might not hold 100% well to your head. but its tiny and I love tiny things!! oh it also has a few diferent settings bright, less bright, dim and flashing