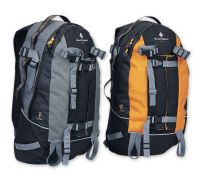 Description
The Zippo was created for those who thrive on day tours and quick alpine excursions. The compact 27-liter design holds enough gear to get you through the day—but won't weigh you down with wasted space. With a clamshell design, the Zippo opens instantly for easy access to gear, while an internal sleeve holds a hydration pouch for long days in the backcountry. An expandable crampon pouch can double as a skin holder, and ice tool holders add versatility. Like all BD packs, the Zippo is streamlined and won't inhibit your movement. Remember: Go big in the backcountry, but go light with your pack.
Colors: Orange or Gray
Weight: 700 g (1 lb 9 oz)
Volume: 27 L (1650 cu in)
Compact, lightweight pack for day-long tours, climbs
Clamshell design opens quickly
Internal sleeve can hold a hydration pouch
2 Reviews
Review
Review by: gunksgoer, 2005-04-10
the perfect small pack for sport climbing or light and fast trad.
Review
Review by: scubasnyder, 2004-02-23
I do not own this pack myself, but my climbing partner does, its an awsome pack, fits a rope and some gear. It has a inside pocket for a hydration bladder to be held. Also it has a pocket on the outside that would fit a pair of crampons in or some ramen noodles.