Previous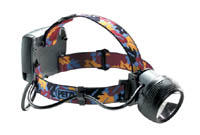 Manufacturer:
Petzl



This item may be available at:
Description
6 V version of the Zoom. Case for 4 AA/LR6 batteries. Supplied with batteries. Rechargeable battery available as an optional extra.Supplied with standard 6 V spare bulb.
2 Reviews
Review
Review by: vertical-rockrat, 2004-03-04
I also had the chance to use one of these a few months back, the owner also put in a Halogen bulb to make it brighter. The thing adjusted well and sit snuggly for the hiking we were doing that night. Have yet to test it climbing around but as far as a good hiking light when you need your hands free this one was nice to use.
Review
Review by: bsignorelli, 2003-06-18
The Zoom Zora is a 4 AA version of the Zoom and to me this is an important feature becuase I don't like having to carry all sorts of different sized batteries. The light coms with a standard buld but I swapped it out for a halogen bulb and now I can really reach out and touch someone. I like using this light when I need to do some route finding when comming off a climb or while caving. If you need a light that can reach far then this is a great light. And its waterproof to boot.