eTrex Vista
Item Details
|
Reviews
(
3
)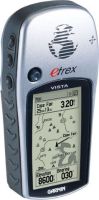 Manufacturer:
Garmin



This item may be available at:
Description
The eTrex Vista combines a basemap of North and South America, with a barometric altimeter and electronic compass. The compass provides bearing information while you're standing still and the altimeter determines your precise altitude. The Vista is also designed to provide precise GPS positioning using correction data obtained from the Wide Area Augmentation System (WAAS). This product will provide position accuracy to less than three meters when receiving WAAS corrections.
The eTrex Vista also boasts an internal memory capacity of 24 megabytes, which allows it to accept downloaded mapping data from Garmin's MapSource®® CD-ROMs, including Fishing Hot Spots®. A silver case gives this unit a high-tech look. New to the product design, Garmin will include marine aids to navigation in addition to the basemap. These navigational aids will be pre-loaded into each unit from the factory.
3 Reviews
Review
Review by: ratintraining, 2005-11-28
I love all the features of my Vista. One of the downsides is sometimes it is hard to get a signal below treeline, however, I have heard alot of the same for other models of GPS as well. All around great tool. Just don't forget the map, compass, and extra batteries.
Review
Review by: speedywon, 2005-01-25
I love this model. It has just about every feature you can want in a handheld model. It's a great accessory for climbing and hiking with its barametric altimeter. They also just came out with a color version.
Review
Review by: tyify, 2004-05-20
I love my Vista. It works excellently and is very durable. The diffrent accesory mounts that you can buy are very handy. If I was to buy any eTrex brand GPS I would get this one hands down. The large memory is VERY nice if you plan on covering a lot of ground for the maps. One downside is that the maps are VERY expensive. (~$100), however it comes with a base map so some won't even need it. Very accurate and intuitive commands. With WAAS becomes even more accurate, however keep in mind WAAS isn't available everywhere (alaska being one of these places) so don't take their promises of extreme accuracy completely to heart.