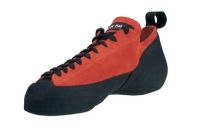 Description
Gym has new last shape designed to satisfy the largest number of users. Thanks to the low weight, simple construction and high comfort Gym surprises also more exacting climbers. Sizes: 3 - 12, 13, 14, 15 UK Weight - size 8 UK : 500 g Natural leather - POPPY RED No lining THERMOPAT 1,3 mm midsole 4 mm VISION 227 sole 2,5 mm VISION 228 rand One pull-on loop COMFORT last
2 Reviews
Review
Review by: tisar, 2005-04-02
They came with my beginner set and that's where they belong. They stretch about 2-3 numbers in no time and it took me only three months to thrash them completely. Enough time to find out what shoes I really want, so I don't regret to have spent those 40$.
Review
Review by: jimfix, 2004-08-26
Only good as a beginner shoe that your going to rub all the rubber off in a year at a gym. Poor edging and sloppy fit. Only pro is the price.