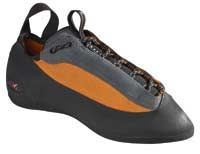 Manufacturer:
Millet



This item may be available at:
Description
USES For those who want to discover the technical movements of climbing on a wall or cliff in comfort. MATERIAL Non woven micro fibre leg / Integral midsole 1.5 mm / Vibram sole Super Gripp 5 mm. DESCRIPTION Semi supple slipper with good technical features - Made in ventilated, slightly stretch micro fibre material - Tapered toe and lacing to the toes for good precision - Wide midsole for load distribution - Integral covering and heel in resin gumwQuilted tongue and 3D ventilated mesh - Fitting semi wide.
2 Reviews
Review
Review by: tisar, 2004-07-27
PRO: cheap, comfortable, good hold (especially instep), perfect fast lacing, smooth sole with a good grip
CONTRA: sole wears out fast, handcraft could be better

... I really like it 'cause it fits perfect and offers me comfortable but stiff hold. Did some slab climbing with it and was surprised of the grip - but the sole became worn out like an indy car tyre. At least a snip at that price.
Review
Review by: jorian_nl, 2004-07-01
I have tried a lot of shoe's but these are as comfortable like a rat loves cheese. I am very happy with these pair, can have them on for about 7 hours without feeling any annoying pain. I have them now +1 year climbing 3 times a week and they still aren't worn out yet. they are great.