Synchro Jacket
Item Details
|
Reviews
(
1
)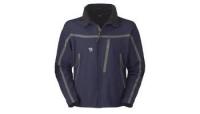 Description
Superior weather resistance in a sleek, technical package. Conduit™ Soft Shell laminate holds wind and water on the outside and warmth on the inside. Weather protective exterior taping and a fleece inner deliver performance and style.
1 Review
"Water-Proof"
Review by: rockvaulter, 2008-10-20
Though no true softshell can claim to be water proof (I do not considor anything with Gore Softshell to be a true softshell) the Synchro and Venta are as close as they come. With the external taping for waterproofness and style, the Synchro is a great spring fall jacket. I find it a little cold, I think they could have gone with a thicker fleece of even a quilted fleece. But I tend to run on the cold side, so I will give it a 5.