Next

Capilene MW Crew
Item Details
|
Reviews
(
3
)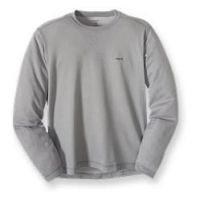 Manufacturer:
Patagonia



This item may be available at:
Description
CapileneŽ Midweight is the perfect midlayer for athletes who do a little of everything. A bit more substantial than Lightweight, classic Midweight manages moisture over a wide range of temperatures. The fabric's brushed interior retains heat, while its smooth jersey exterior makes for hitch-free layering. The fit is contoured without feeling restrictive.
3 Reviews
Capilene
Review by: stoehnercd, 2008-02-19
Certainly the best baselayer available, Capilene keeps your skin dry and warm. Soft and comfortable I will wear no other baselayer...ever. Capilene is positively the best from the Joshua Tree to Everest.
Review
Review by: rhythm164, 2006-03-16
I love this stuff. Great for early spring of fall climbing, wears like iron, and if you do manage to kill it, send it back to Patagonia and they'll recycle it into new shirts. think green.
Review
Review by: mgoodro, 2005-05-02
I've comfortably worn this over a wider range of temeratures than any other single piece of clothing I own. I bought this as a base layer for backpacking, but ended up climbing in it in cooler weather. It has held up amazingly well through serious abuse including shimmying up rough sandstone slots and arm-jamming in basalt. Well worth the price (on sale for $28).