Removable bolts
popular
Item Details
|
Reviews
(
2
)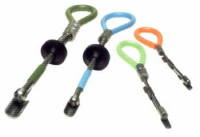 Description
Removable Bolts are one of the most innovative pieces to hit the market in years! Not only do RB's cut down on drilling time, but they are inconspicuous and can handle up to 3,700 lbs of force, making them as strong as conventional bolts. RB's have already gained a dedicated following amongst aid climbers and are beginning to find a home on more conventional routes. RB's are "gear to get you there!". Available in four sizes. Removable Bolts, size 3/8 or 1/2 inch:
2 Reviews
Review
Review by: tonydevo, 2004-06-01
I've used and experiemented with the various sizes from 1/4"-5/8". I found them hard to place and set securely and very tought to extract after being loaded. This product seems more suited for construction than climbing but could have some limited application. If you were to be drilling on lead these might provide a method of quicker installation, drill 3/8" shallow hole--place RB--sit on it and drill a full length bolt--surely better than a hook!
Review
Review by: chuffinator, 2003-12-18
Route equipers will especially like the RB. These babies will let you aid through blank sections no problemo. Plus, they are very strong. They are a little tuff to pull out. The claw of a regular hammer worked well in the removal.