Next

A.T.C. (from Nelson Sports)
Item Details
|
Reviews
(
8
)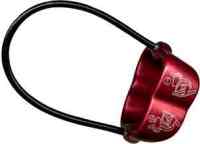 Manufacturer:
Rock Empire



This item may be available at:
Description
Smooth-feeding belay/rappel device. Fits rope sizes 8.5-11mm Weight: 41g
8 Reviews

Write your own Review


Read all 8 reviews
broken
Review by: amber22, 2008-11-20
This device is not worth purchasing. I only had it for 3 months when for no apparent reason at all with no warning it fell off my locking carabiner. The cable snap out of the ATC and is no longer in action. Was very fourtunate that I did not use it that day and used my other one istead. Piece of crap is what it is! Don't buy it!
Review
Review by: vincentvega, 2006-07-22
I agree with madrock an casco!
Two little cons: it getīs very hot when rappeling and the feeding of 11mm ropes is difficult.
Review
Review by: 10ftdrp, 2005-03-03
Have it. Hate it.
This P.O.S. is the worst thing you could possible use to lead belay. every time the leader that i am belaying trys to clip i short rope them because this stupid device locks up when i try to feed rope. shell out the extra 10 bucks and get a black diamond atc anything else but this thing
Review
Review by: tallnik, 2005-01-01
BD's ATC gets the job done, but there are better devices out there. This one is one of those superior devices in my opinion. Has a variable friction setting, but almost never end up using the added friction setting. I find this device feeds super smoothly, works great on rappels (I don't have the lockup problem people mentioned), and catches falls really nicely.
Review
Review by: madrock, 2004-12-17
The device works perfectly, I suggest that the people who did not use it correctly look at the side of the device and try to understand the simple directions. There is a high friction way to thread the device and a low friction way to thread the device. If you use the high friction thread with a fat rope, yes it will give you high friction "as designed", if you don't like that much friction simply thread it the other direction. There is a diagram for those not smart enough to figure it out.