BRD Belay Rappel Device
Item Details
|
Reviews
(
17
)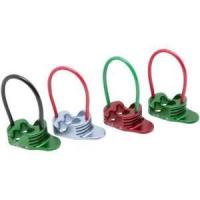 Manufacturer:
Metolius



This item may be available at:
Description
The BRD is designed to aid the belayer in holding falls by increasing friction within the device. It is machined from solid 6061 T-6 aluminum and double slots allow single or double rope capabilities. Engineered rope slots give extra control while belaying and rappelling, increasing security. Ergonomic horn gives enhanced control while lowering/rappelling. Cooling fins effectively dissipate heat. The BRD is easy-to-use, has a high strength/low weight ratio, and doesn't kink ropes.
Weight: 3 oz.
17 Reviews

Write your own Review


Read all 17 reviews
Perfect 10.
Review by: Matt_Akers, 2011-09-21
This is my go-to device. All the cons listed an be easily remedied with practice. While absolutely not recommended there have been more than one occasion during a rap when the rope weight was enough to lock the device out. Nice when a rope is stuck or you are on a difficult rap. Doesn't kink the rope like the Reverso 3 though I do miss the option for guide mode. Not recommended for big huge noob ropes. Skinny is good!
Dope BRD
Review by: Benzesp, 2009-06-18
If you cant figure this device out you need to just quit. Works great for belaying in either side. Works great while repelling as well. I dont get why people dog this device.
Review
Review by: blazesod, 2006-07-03
Pro: This belay device is VERY easy to brake with as it has major friction in the standard setup. There is a picture on device (climber-rope-you-brake hand) to eliminate confussion.

Con: Too much friction in standard position for smooth rappelling or lead climbs.

Fix: The owners manuel says "for smoother belays or rappelling invert the device." Works excellent upside down, very smooth just like a standard ATC.
Review
Review by: superbum, 2006-06-08
It is good for skinny ropes. An ATC is scary to use w/ my 9.7 but this makes it much better, not to mention easier to rappel. Anything larger and this thing sucks.
Review
Review by: andrewj, 2005-12-04
Pros:
It might save you from dying when you fall....maybe.
after locking off a climber it is very difficult to quickly "unlock" the rope to give your climber slack. I have on several occasions had to grab the belay device and yank it away from the biner in order to "unlock" it.
there are COUNTLESS tube devices that are better in every way.